This pressure washing North Vancouver job was done for a long time, repeat client of ours.
Paving Stone Pressure Washing North Vancouver
Cathy contracted us to pressure wash her very mossy paving stone driveway, re-sand the pavers and apply a concrete & brick sealer. We got to work on this project and utilized a rotary nozzle tip on the end of our power washing wand, for the pressure cleaning portion of the job. This power washing method we find, does the best job to remove accumated moss and weeds from the paving stone bricks.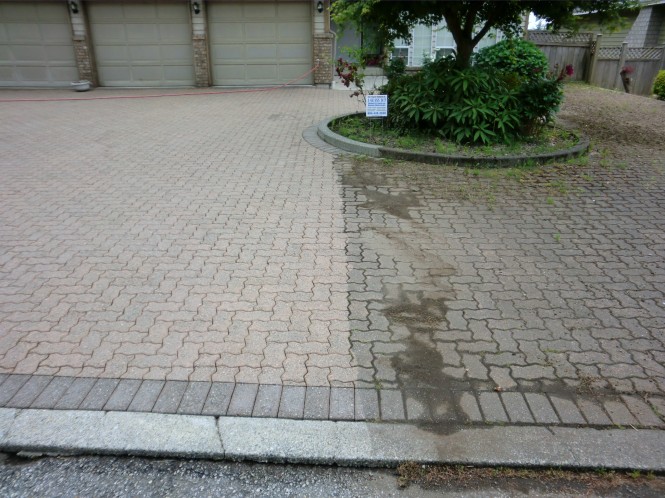 The results were like "night & day" after we completed all of the pressure washing.
We also pressure washed the brick fence in front of Cathy's property, which was an amazing transformation in itself. A cleaning solution pre-spray was applied to the brick fence prior to a low power washing spray – this provided a much better cleaning result.
Concrete Sealing North Vancouver
After the flat surface paving stones and brick fence were power washed, a jointing sand was then broomed into all spaces around the driveway bricks. We then applied two coats of a hi-grade, penetrating, concrete/brick sealer to the flat surface driveway pavers. A low pressure pump sprayer was used to apply the concrete sealer on this project.
Concrete sealers not only waterproof the brick paving stone surfaces which protects them from further erosion (both from rain water and future power washing), but they help to keep these surfaces cleaner (dirt and algae do not penetrate into the paving stones). The brick sealer used on this job is transparent, non-slip in nature and will last four to five years before re-application is required. I think you'll agree that this pressure washing North Vancouver job was very effective.