Has Your Chandelier Lost It's Original Sparkle and Shine?
Perhaps there are a few Cobwebs hanging from it? Lights burned out? …Or is your chandelier a lot worse than that?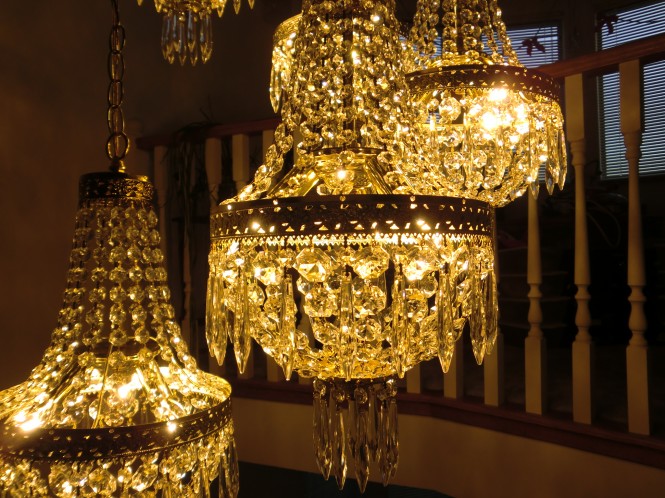 A Glass Act will clean your chandelier on-site and make it look like new again!  Great care is taken to ensure that your chandelier isn't damaged during the cleaning process.  We use either a clean, rolling  scaffold system or special ladders to  safely  and effectively access your chandelier fixture for cleaning.
Floors are sometimes protected with plywood sheeting before scaffold  assembly and we cover and protect anything else with dropsheets, blankets and padding materials.
This type of specialized, tedious cleaning requires a lot of patience and a great attention to detail.  Everything from the fixture frame to each piece of crystal is cleaned by hand using a special cleaning solution.  We use lint free clothes and micro fibre buffing materials to make each piece of crystal sparkle and shine.
Chandelier Repair and Bulb Replacement
We also replace chandelier light bulbs, crystal hangers, pins and clips and we can replace most crystal elements.  We stock some of the more common crystal replacement parts where all others must be ordered through one of our lighting suppliers.
What Areas Do We Serve?
Our chandelier cleaning team works anywhere in Vancouver, North Vancouver, West Vancouver, Burnaby, New Westminster, Surrey, Langley, Delta, Port Moody, Coquitlam, Port Coquitlam and NOW in the Greater Victoria area on Vancouver Island.  Or, give us a call to see if we are working in your area.
Let us restore your dirty chandelier to the magnificent "conversation piece" that it is!