Gutter Cleaning & Repairs in Vancouver and Area
We perform gutter cleaning on all types of gutters such as aluminum, vinyl, wood and copper. We also service built-in, seamless and hidden gutters.
Typical Gutter Cleaning Service
Depending on the pitch (e.g., steepness) and the condition of the roof, we work from a ladder or from the roof itself
Debris is removed from the gutters by hand and when required we flush troughs and down-pipes with water
Debris is disposed of on-site or we remove it from the property and the grounds will be left clean of any gutter contents
During the cleaning process, we assess the gutter system for any wear or possible repairs of which you may not be aware.
We will inform you of any necessary repairs to gutters or your roof. The most frequent gutter repairs we do are resealing leaking corners, replacing old down-pipe connectors and re-attaching the gutter trough to the fascia board.
Notably, EPDM (the rubber liner in a built-in gutter trough) has seams throughout the troughs and in the drain openings. These seams and drain patches will split in time and require proper sealing.
Additional Gutter Cleaning Services
We feel it is important to inform you of any possible modifications that will make your gutter system operate more efficiently (e.g., more downpipes where water tends to pool or gutter baskets.)
We install enlarged down-pipe openings on aluminum gutter systems with a ground-level clean-out filter to capture any debris before it goes into your perimeter drainage.
Gutter Baskets – "No-Clog" Guarantee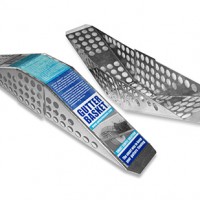 Gutter Baskets are made of galvanized steel & installed above the downpipe openings in your gutter troughs. They will work in both aluminum gutters & Built-In gutter systems. Protecting your downpipe openings with Gutter Baskets will greatly assist in keeping your downpipes from plugging up. We supply and install these in your gutters.
We offer a "No Clog" Guarantee – when we supply and install Gutter Baskets in your gutters, we will provide a No Clog guarantee – Gutter Baskets reduce and can prevent downpipe openings from being plugged – reduce and eliminate those overflowing gutters!
Ask Us for More Details – (604) 435-3550
Interesting facts: If you take a good look up at your gutters and notice dirty water spots at the corners, not only is this an irritant (water dripping on your head), but it could lead to rotting of the wooden fascia board if you do not have it fixed.