This power washing Vancouver and house washing Vancouver job was done for a new residential client that contacted us to ready her home for sale.  This project involved some roof moss removal, power washing, house washing and window washing.  We also discussed exterior painting of the front and back stairs and the front and back wooden fence painting.
Power Washing Vancouver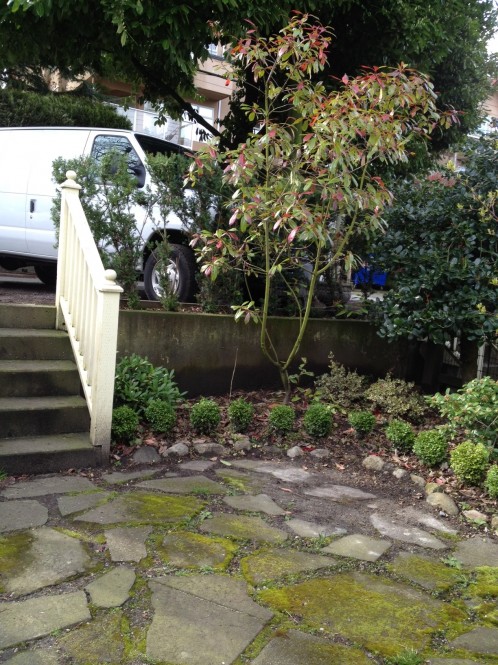 We initially thought that three sections of the back roof could be carefully cleaned to remove some very visible moss.  When our cleaning team arrived and set up ladders to access the roof moss, we determined that the cedar shingles were rotting badly and needed replacement rather than cleaning.  We discussed the roof situation with our client and it was decided that a roofing company would be contracted to replace the rotten shingles and clean the inside gutters at the same time.
House Washing Vancouver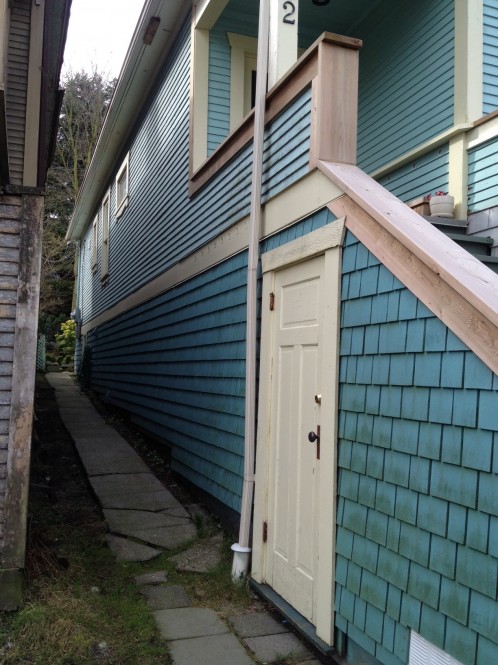 The bottom floor of the house was dirty and green with algae, so we power washed the house exterior using a low pressure washing spray.  A cleaning solution pre-spray was first applied to the wooden shingle siding before we pressure washed the walls.   We also power washed the front and back wooden stairs and everything cleaned up very nicely.
The front and back painted wooden fencing was power washed in the same manner as the house walls and they looked much better afterwards.  We then power washed the back and front concrete stepping stone patio, retaining walls and sidewalks.  When we started power washing these concrete areas, the exposed dirt around each stepping stone quickly turned into a mud river.  Our cleaning technician decided it would be best to have a discussion with the client about this mess of mud that was being created around the concrete stepping stones.  The pressure cleaned concrete was looking fantastic but something had to be done about the now exposed mud that was around them.  We suggested that a ground cover be placed around them, like gravel or crushed limestone, to cover the dirt and provide a clean appearance.  Our client decided to do this after all the power washing was completed and the result was fabulous!
We finished this house washing Vancouver project by hand cleaning (applicator & squeege) the interior and exterior windows.  When preparing a home for sale, it is very inportant to make your house as clean as possible to provide great "curb appeal".  The exterior painting that is needed on the stairs and fencing will have to wait for some drier, warmer weather.
Clean homes are perceived as well maintained homes by prospective buyers and create lasting first impressions.  This can have a huge impact on the sale of your house!
This power washing Vancouver and house washing Vancouver project was very effective for the homeowner